My thoughts about some recent goings-on I've seen concerning our Padres:
When Manuel Margot returns, Matt Szczur makes the most sense to be out righted. Franchy Cordero needs to work on some things, sure. His K rate is high, but is there really going to be a big difference in the stuff he sees in AAA vs MLB? He can man left field, and can be spelled by Jose Pirela versus tough lefties. I don't think Cordero suffers development if he stays with the big club, and he is looking like the Padres 2nd best outfielder. Pirela is a solid bench bat and versatile utility glove that gives Manger Andy Green plenty of flexibility. Both players have been contributing with their bats in a very small sample size – (Franchy a 132 wRC+ in 74 PAs, Jose a 163 in 50). Matt Szczur has walked at a pretty good clip (17.4%) but not much else sporting an 85 wRC+ in 69 nice PAs.
When Travis Jankowski returns you could see Franchy going down, but I do wonder if Jankowski's bat is going to come around now that he's healthy. Was his horrible start (a 29 wRC+ in a very small 59 PAs) attributable to the bad wheel? He played solid defense, so I'm hoping his swing was hampered by the foot, because he struck out way too much, hit for no power and barely hit the ball hard.
The rotation is going to get really interesting very soon. Trevor Cahill should be back within a week or so and same for Jered Weaver. The current rotation is Clayton Richard, Jhoulys Chacin, Luis Perdomo, Dinelson Lamet and Miguel Diaz. Of those starters, Perdomo Lamet and Diaz hold some promise of producing during the Padres infamous playoff and World Series winning window of '20 and beyond. Cahill looks like productive trade bait, so I would think his return would lead to Lamet returning to El Paso. Jarred Cosart could also return in a couple weeks and Andy Green will have to decide if Diaz continues starting or returns to the pen. I see little room for Jered Weaver, and other than insuring a solid sinking tank, can't see him getting more starts this season for the Padres. I read yesterday afternoon that Christian Friedrich is being sent out for rehab starts. Four former starters getting ready to return. I suspect the young controllable guys will be optioned, but hopefully the Padres use this season for development more than journeymen filler.
Speaking of tanking, the Padres absolutely need a top 2 pick in next year's draft. @sacbuntchris tweeted this graph from fivethirtyeight.com showing the value of a pick by draft position and it shows that after the top two picks the drop off in production, on average, drops fairly significantly. What it basically means is Bruce Bochy needs to get his team in gear, and the Padres need to pitch Erick Aybar more.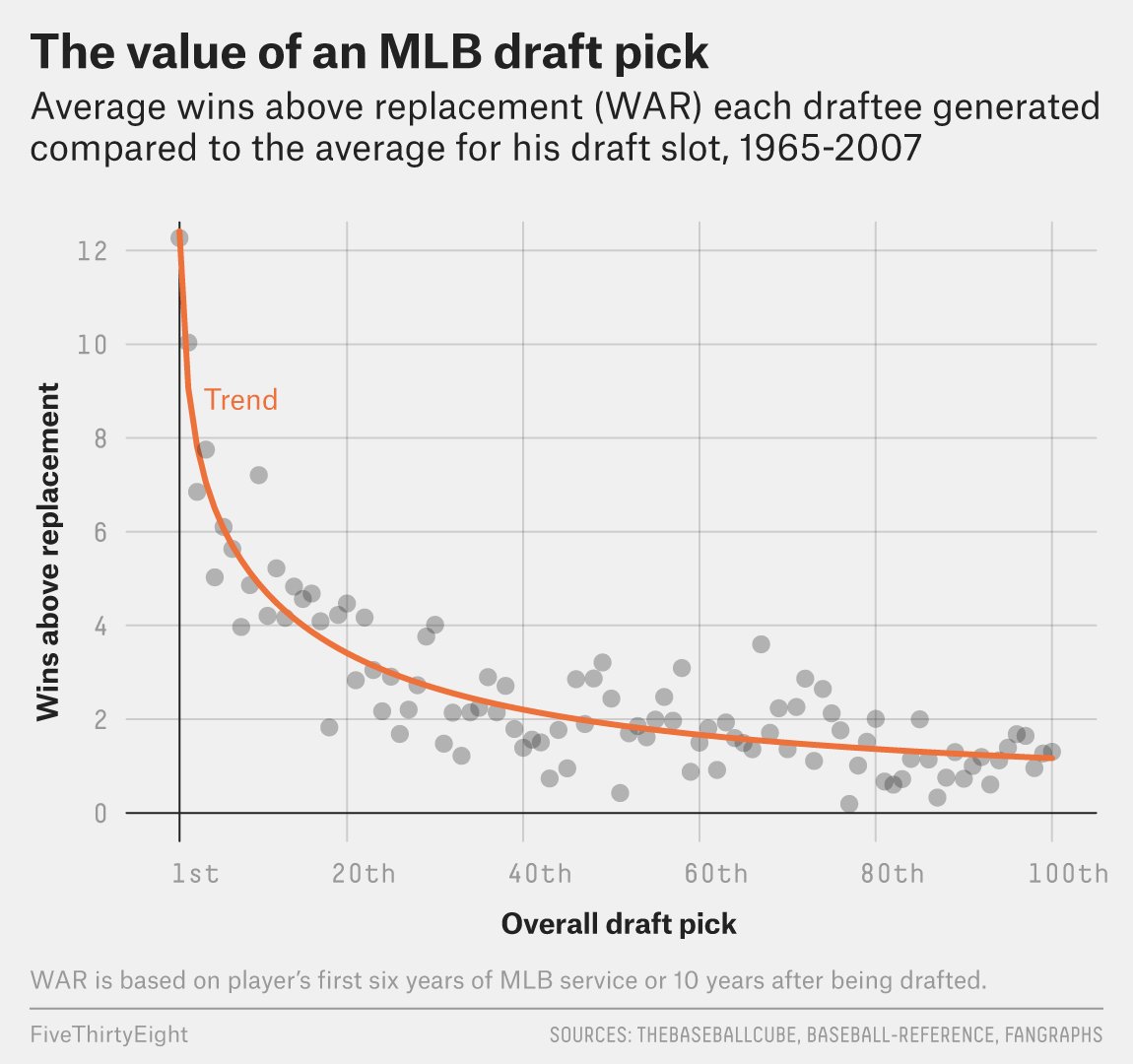 Someone buy Austin Hedges some brown catchers gear. I mean really, he has the biggest and wealthiest fan base in all of Padres land. I know that two huge fans on Twitter could cover this cost just by tipping less by 5% for one week's worth of lunch meetings. Now I know some poor actor/waiter is going to struggle for a small amount of time, but really, can our swoonable sweetheart please look great on Friday nights at Petco? Should we start a GoFundMe? Let's get this done.
Yangervis Solarte is the kind of player/human that you want on your team in the championship window. He may/should not be a starter by then, but will be a true Captain and a terrific bat/glove off the bench. And he is just the best. Really. Go find videos of him with his adorable three girls. Goddammit it's getting dusty in my office just watching the "Coach Dad" video. Those beautiful girls do have it tough without their mother, but fortunately they have a special man in their dad. I hope he stays a Padre until her retires and we get to watch those girls grow up. That would be wonderful.
Catch me on Twitter @lybargerbrewery