It's been a crazy few weeks since both the MLB and MiLB seasons started. Due to unforeseen circumstances that would be extremely boring to retell here, the Padres Prospects Spring Training Notebook kept getting pushed back to the point where now it seems to make more sense just to roll it into an overall spring/early season notes piece. Below are notes and observations from both in-person looks while in Arizona and conversations had since the season began. Be forewarned, the Spring Notes are extremely raw in presentation, which we'll call a tribute to the environment they're taken from.
Read Spring and Early Season Padres Prospects Notes: Part 1
Spring Notes: lighting quick arm, has touched 100* MPH in favorable conditions, quickly moving up internal boards as an organizational favorite; delivery shows a decent amount of deception and is capped off by low arm slot; employs a "drop and drive" style in delivery which is somewhat concerning for future control and currently causes him to pitch up in the zone; decent secondary offerings including a changeup with sink and a looping curveball.
*decent amount of skepticism on the gun this was recorded with
Early Season Notes: Smith has been nothing short of fantastic in his Double-A debut, striking out 10.73 batters per nine innings and walking just 1.38. While he continues to pitch up in the zone, Smith has only allowed one home run in 26 innings of work. There is legitimate concern that as he faces more advanced hitters Smith's pitching style will become less effective, but his mix of deception and velocity will carry him into the Padres rotation at some point in 2013.
Here's video from one of Smith's recent starts compliments of Jason Cole:
And here are some #swoon-able GIFs for your enjoyment from our own WoeDoctor:
See the red arrow in this photo to realize just how late the hitter was on that fastball:
Spring Notes: continuously posts sub-1.9 pop times like it's no big deal, incredible footwork, smooth hands, and an incredibly accurate arm; has become a field general guiding both his pitchers and infield defense through games; the aggressiveness in going after base runners through back picks is unmatched by any catcher not named Molina.
Early Season Notes: While Hedges hasn't produced at a high level offensively thus far, he's still shown a quality approach at the plate. On defense, Hedges has been as good as ever while making a few mistakes in his effort to be overly aggressive in pursuing his mortal enemies – aka base runners. He'll learn when to tone it back and when to be aggressive behind the plate, but the good news for now is that Hedges continues to look like the monster Padres fans are hoping he'll become.
And here's a fun little screen grab from that video showing Hedges jogging off the field while the runner is still five feet from the bag: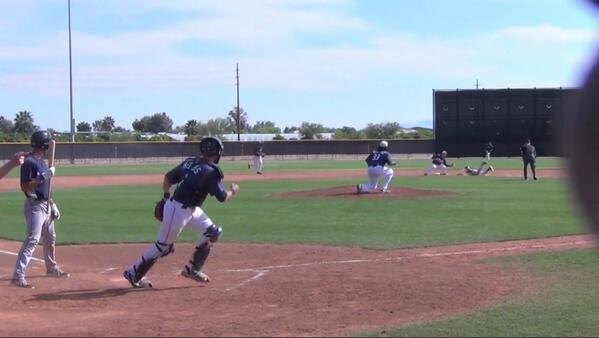 Early Season Notes: Lollis is back in Lake Elsinore for the third-straight season, but this time with a sidearm delivery. He's still able to pump the ball up to the plate in the low-to-mid 90s, but oddly enough the big man who could never quite figure out his mechanics has found success in a non-conventional delivery. Early results were great as Lollis pitched 11 scoreless innings before finally giving up a run and he's still striking out more than a batter an inning.
Early Season Notes: Fuentes is off to a blazing start in his second go around in San Antonio, posting a .337/.405/.500 line through his first 113 plate appearances. The even better news is that scouting reports have turned favorable once again giving Fuentes a shot at a big league future. He's still got a ways to go to show that he's permanently recovered from lackluster efforts in 2010 and 2011, but all signs thus far are positive for the 22-year-old outfielder.
*****
Follow Padres Prospects on Twitter or visit PadresProspects.com to read content that's probably too old to really be relevant anymore. Oh, and you can email Padres Prospects if you really want to here.