Maybe. No he's not. Yeah, he is. I'm so confused!
It's been quite the exciting week for Tyson Ross.  Last Wednesday, he pitched the first complete game shutout of his career in a win over the Cincinnati Reds.  Thursday, he joined Twitter.
And Sunday, he was named to his first National League All-Star team as the Padres' lone representative.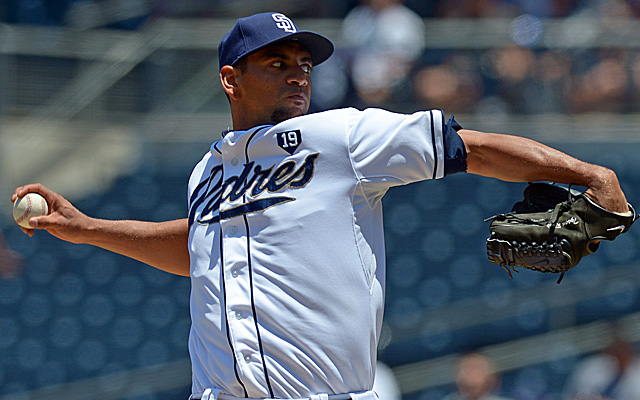 Wait–What?  Tyson Ross?  What happened to Huston Street?  Or Seth Smith?  Why was Ross selected over either of them?  This was originally going to be what this was all about.  I was going to wow you with stats and magic.  And you would all eat it up.
Then, Monday, Ross decided he'd rather not participate in the All-Star Game in Minneapolis, announcing he will make his scheduled start for the Padres next Sunday.  Which then would rule him out to appear in the All-Star Game.
Don't get me wrong.  I fully support naming Ross an All-Star.  Especially when you look at his numbers (except win/loss record, of course), which we'll do in a second.  And I applaud him for thinking of his actual team first.  He just as easily could have told Bud Black to find someone else to start Sunday.
But now the question is, once again:  Who's your All-Star?
Last month I put up a poll asking you guys to select your All-Star, given the inevitable fact that no position player from the Padres was going to be remotely close to get voted in to start by the fans.  No Padres' player was even among the Top 5 of his respective position in the final fan voting tally.
So that meant it would come down to the players and coaches to vote.  Which, of course, meant that my poll was just for chuckles and grins.  Huston Street barely edged out Seth Smith, with Ross a distant third in a tie with Andrew Cashner.
[polldaddy poll=8097919]
Given the fact that Ross is a pitcher, it only makes sense that the NL All-Star manager Mike Matheny would want to replace him with another pitcher.  That leaves Huston Street, Ian Kennedy, or Joaquin Benoit (who was not on my poll) as the most likely replacements.*
*This is all speculation, as they have not announced whether they will or won't replace Ross on the All-Star active roster as of the time of me writing this sentence.
Street is 23 out of 24 in save opportunities (thru Monday) with his first blown save coming Saturday against the Giants.  He also has a 1.13 ERA in 32 innings and has been one of the more dominant closers this season.  He'd be a good choice.
Benoit has a 1.32 ERA in 36 2/3 innings to go with his 41 strikeouts.  He has been one of the more dominant set-up relievers this season.  He'd be a good choice too.
Kennedy's numbers don't look nearly as impressive as Street's or Benoit's.  He has a 7-9 record and a 3.71 ERA in 19 starts.  He does have 125 strikeouts in 116 1/3 innings, which is pretty good.  I wouldn't complain if he was the choice to replace Ross.
But, why was Tyson Ross the selection to begin with?
Jeff Sullivan wrote a piece in The Wall Street Journal in mid-June about the most unhittable pitchers in baseball.  Ross was second, ahead of names like Felix Hernandez, Clayton Kershaw, and Stephen Strasburg.
Sullivan noted:
This doesn't appear to be a fluke, either. Over the past calendar year, Ross owns baseball's lowest contact rate among starters. That covers a span of 174 innings and 28 starts, roughly the equivalent of a full season.
Okay.  That could be a big reason.
Matt Snyder had a piece last Thursday for CBS Sports touting Ross' performance so far this season.
So why isn't his record better than 7-8? Well, the hapless Padres have scored two runs or less in nine of his 18 starts. Only seven NL pitchers have had worse run support throughout the season, including two teammates and the unsurprising "leader," Jeff Samardzija (the Cubs average 2.41 runs per game when he starts).
Snyder also agreed with the results of my poll, saying while Ross deserved an All-Star nod, it would probably be Smith or Street.
See?  Even the people who get paid to write about this stuff get it wrong.
---
I write something for Padres Public just about every week and usually on Wednesday morning. Since you're likely already following me on Twitter, tell your friends, family, and well-wishers to follow me.